A Complete Toolkit for The Smooth Running of Your Local SEO Campaign
The greatest mistake a person can make in any of the digital marketing campaigns is not tracking their result. Be it social media marketing, affiliate marketing or local SEO, the act of evaluating your marketing strategy cannot be underrated in the success of your campaign. With it, you will be able to detect what's working for your business and cut down the money spent on others that are not working.
However, evaluating your business reach on the internet cannot be done by just taking the number of likes and comments you have on your social media account – it's absolutely beyond that. It also involves measuring the number of clicks you have on your affiliate link, people sentiment on social networks, and the ranking keywords for your local SEO. Therefore, you need a tool that can put all the results into one piece – you to need the BrightLocal SEO tool.
BrightLocal is a group of marketers who have dedicated their expertise to creating software that can be used by businesses to achieve their online success. Their software has caused the success of thousands of local marketers in which you can also be one of them. It is a full packaged software that offers everything that a business needs to track its online presence and to stay on top of its niche. Let's quickly check out some of the services offered by the BrightLocal SEO tools.
1. SEO report in one place
This feature is hard to come by on the internet. BrightLocal tools present all your reports on their white-labeled SEO dashboard from which you can see your rankings in various sections. The dashboard presents a report on Google rankings, business reputation, Google my business profile, citations, and your mentions on various social media. The report can be easily understood, and it's presented in tables and graphs for business to have a clear and simple analysis of their data.
BrightLocal tools are specifically designed for local marketers who assist clients (business owners and agencies) to grow their business online. Therefore, the tool allows local marketers to customize and brand the white-labeled report. The following are few of the things that can be done on the report using the BrightLocal SEO tool.
• Customization
A local marketer can use the available features on the tool to customize the report to their taste. With it, you have the full right to decide the data you want your client to see, and also add your logo for branding. The tool allows you to change the color of the report's theme and also make as many brand profiles as possible without additional cost. Meanwhile, you can remove everything that has to do with BrightLocal from the report. Isn't that great?
• Mailing
You can also use the tool to mail the report to the client under your brand name. Meanwhile, you can download your report in either PDF or CSV format. I can hear you say, "that's what I am looking for".
2. Business citation building
Are you still going through the stress of creating business citations for your clients, or you are paying a huge amount for freelancers to create some for you? Then you should be getting the BrightLocal SEO tool. With it, you can submit your business details (name, address and phone number) on many websites across ten different countries for $2. These countries are Australia, Germany, Netherlands, South Africa, Singapore, Canada, New Zealand, Ireland, the United States, and the United Kingdom.
It will not just place your citations on any website, but those with high ranking. Meanwhile, you don't have to worry yourself too much if the business you are managing has multiple addresses. The tool with the direction of BrightLocal staff will ensure that each business site is optimized for local searches.
3. Business citation tracking
Citation building is just a pinch out of what the tool offers. Amidst the report on the white-labeled dashboard is a section for citations. There, you will see your business key citation score and a list of all sites where your business details are found. Not only that, but the report will also include the duplications and errors in your business details across these citation websites.
With it, you will be able to determine what should be done to the errors and duplicates. The tools want to ensure that all your business details on different sites are correct and consistent. Moreover, the BrightLocal SEO tool will help you compare your business citation performance with a competitor from which you can know where you are yet to place your details. Don't be surprised, BrightLocal has made it their core duty to simplify the task for every local marketer and that's the reason they go by the motto "local SEO made simple"

4. Local search audit
BrightLocal SEO tool serves you with a complete audit of your online performance. Be it off-page SEO, on-page SEO, or search rankings, you are assured of getting regular updates on all optimization efforts. This will include new ranking keywords, inbound links, and all results about local SEO. The software will also provide you with all the data analysis of your GMB (Google my business) profile.
5. Reputation manager
The tool will not only manage but also help you gain reputations. It does this by emailing your customers with a link for them to review your business on prominent websites. Meanwhile, it shows a report of all the reviews generated by a business in over 65 review websites.
Moreover, it serves you with a report of the people who received your mail, the number of people who clicked on the link in the mail, and the number of people who left a review.
6. Lead generation
This is the interesting part for bloggers and anyone who runs a website in the digital marketing niche. A local marketer can easily install the LeadGen widget, a feature available on the software on their website or blog. The purpose of this widget is to assist marketers in generating leads for their business. It does that by allowing your website visitors to experience some of the benefits offered by this tool. They can easily run a search audit on their website or for their business and download the result with your brand logo on it. With this, they will rest assured of your professionalism and fully confide in you to run their digital marketing campaign.
7. Social media integration
The tool will also enable you to have a time-to-time report of your business performance on social media like Facebook and Twitter. It will keep you updated will the number of likes, comments, and mentions gained over a while.
8. Pricing
I am very sure you would have been thinking that this software will worth thousands of bucks. However, the opposite is the case. BrightLocal offer their services on three different plans. The cheapest plan for the single business cost for just $29, the multi-business plan for $49, and the SEO pro for $79. The prices are just for a month, but there is a chance for annual payment with a bonus of two months free.
What are you still waiting for? You will agree with me that this software offers more than any you have come across on the internet. And if you still have a doubting mind about it, you can have a 14 days trial with no card registration by following this link or make a direct purchase instantly.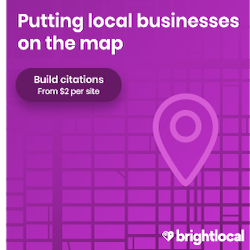 Disclosure: Some of the links in this post are 'affiliate links.' This means if you click on the link and purchase the item, I will receive an affiliate commission at no additional cost to you.